DISCS COATED WITH QUALITY.
Discs That Deliver for All Applications.
Apec Brake Discs are precision made with textbook Apec excellence. Whether you purchase from our standard selection or our premium black range, you can rest assured that our discs will provide a full stop that never falls short of OE specifications.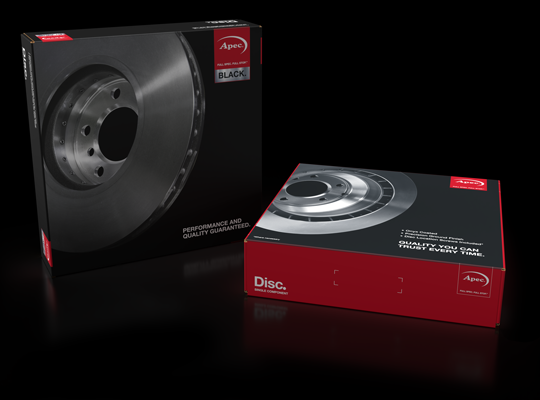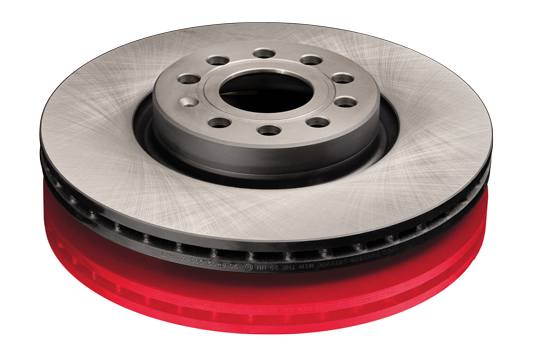 Superior in Standard.
Our brake discs are designed to meet the highest standards imaginable: those set by our range of brake pads. Each disc is precision tailored to match the consistency and braking characteristics found in Apec Pads to promise collaborative quality that exceeds OE performance. For an installation that pushes your braking system to its full potential, pairing Apec Discs with Apec Pads is the only answer – full stop.
Precision in Every Part.
Produced to fine tolerances and exacting specifications, every brake disc in the Apec range has been finished with peerless precision in mind. Uniform thickness and hardness ensure easy, adaptable fitting for a diverse range of vehicle applications. That includes both modern vehicles and older models from the 1960s onwards – all of which can be found listed by manufacturer in our online catalogue.
All Apec Discs are supported with a 3Y36K warranty guarantee so you can face the unexpected without worry.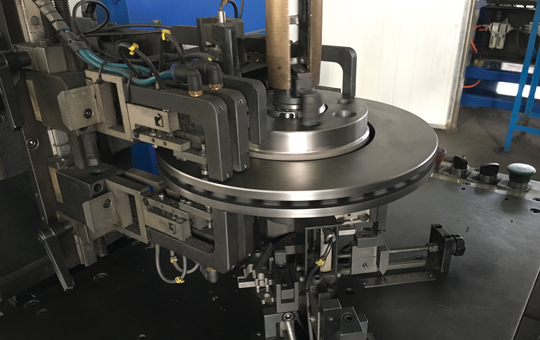 Excellence Through Evaluation.
Apec Brake Discs distinguish themselves with lasting product value at the manufacturing level. Produced with cutting edge technology, every Apec Disc is tested to homologation protocols that assess braking performance over a range of temperatures and pressures. Key criteria such as disc integrity, thermal cracking, and disc thickness variation (DTV) are observed and synchronised for performance with every purchase.
Scratching the Surface.
Enhanced with a non-directional finish, Apec Brake Discs use differentiation in scratches across the disc surface to significantly reduce the chances of pad Noise, Vibration, and Harshness (NVH) compared to a standard directional finish. The rougher texture of non-directional disc finishes further reduce bedding-in time through increased heat generation that expedites material transfer. With an expected lifespan of 200 to 1000 miles, non-directional finishes provide more than enough time for brake pads to bed the disc, reducing the likelihood of NVH once the finish has worn.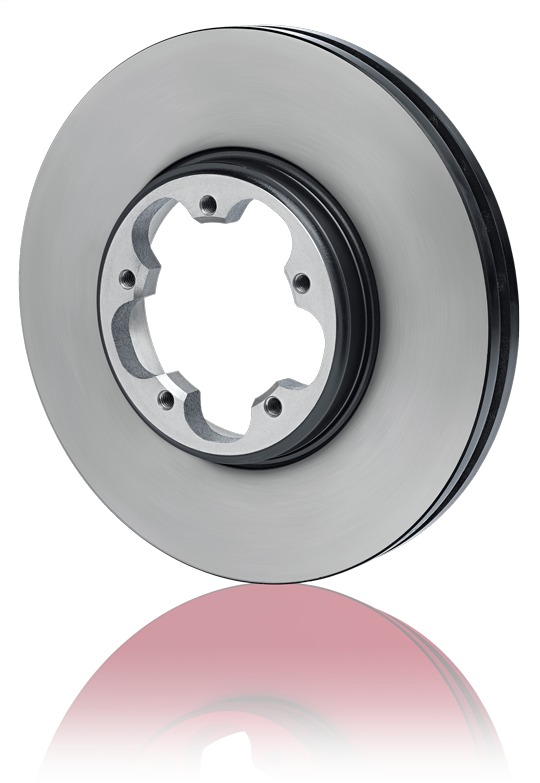 Innovation, Inside and Out.
With Apec Brake Discs, innovation is the ultimate means of providing the OE quality customers expect through methods that are entirely our own. Like their OE counterparts, Apec Discs have hubs and edges coated for a like-for-like replacement. Unlike OE parts, however, our friction surfaces are masked and uncoated to prevent brake pad contamination, boosting braking efficiency.
Other innovations include:
Black OE-matching coating for a long-lasting, sleek aesthetic.
Friction-resistant materials for enhanced durability.
Precision drilled mounting holes for seamless installation and fitting.
Resistance to warping through increased capacity for heating and cooling.
Disc location screws included for clean installation out of the box.
Toughened cardboard packaging for a 3.5-tonne reduction in annual plastic usage.
Better in Black.
For a premium answer to all your brake disc needs, Apec Black enhances the already substantial quality offered by our standard range. With Apec Black discs, luxury vehicles match luxury components for braking that is a cut above the competition.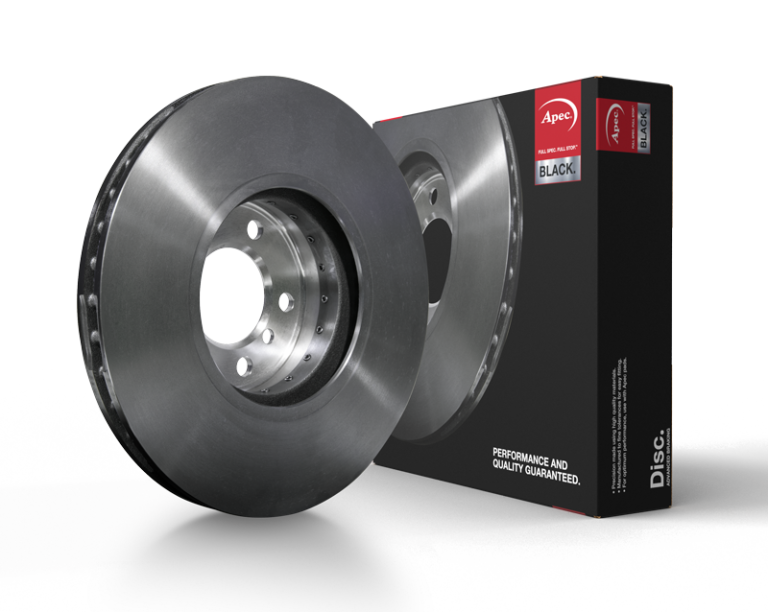 2-Piece & Duo Cast Brake Discs.
Perfectly designed for premium applications.
Lighter, Safer Braking.
The Apec Black range provides a solution to patented braking products without the extra weight. Each brake disc has been designed to seamlessly meet OE specifications and dimensions for performance and prestige that is both discreet in form and distinct in function.
Mass Matters.
By reducing total unsprung mass, Apec Black Discs maximise performance and handling to ensure every installation enhances the driving experience for premium vehicle applications. With Apec Black, better braking means better materials, better manufacturing, and matching patented OE innovation with razor-sharp precision.
Our compound bi-metallic discs meet OE specifications in a variety of ways, including a 2.5mm thick pressed steel hub on Mercedes applications. This means a reduction in disc weight of up to 20% compared with a full cast product without sacrificing durability or safety.
Due to the European CO2 regulations, manufacturers are required to ensure that the average emissions levels of all new cars they produce, and which are registered in the European Community, are at or below the permitted level of emissions for its vehicle type. This has shifted the automotive market into the era of 'light-weighting' and increased R&D development to focus on the following key drivers:
Weight reduction measures
Fuel economy and CO2 emissions
Enhanced vehicle performance and handling
Heat Dissipation.
OE matching manufacturing practices and carefully selected materials mean Apec Black Brake Discs are designed to withstand and dissipate extreme temperatures caused by friction. Our two-piece designs conduct, store and disseminate heat, mitigating thermal stress and distortion to provide a smoother, more reliable drive.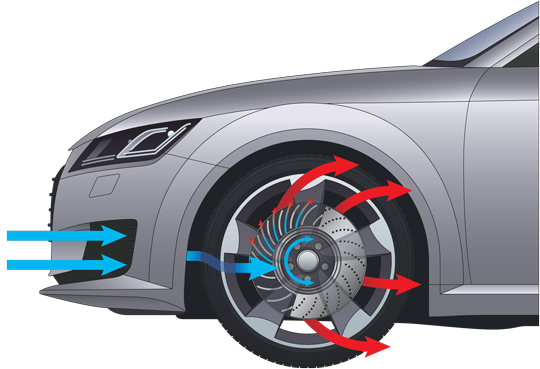 Manufactured for More.
We specialise in building braking components that address patented design innovations without compromise or complication. Apec Black products go above and beyond standard production practices to secure a level of quality that will provide a familiar feel while adhering to EU carbon regulations and industry-leading standards of R&D.
Our materials include corrosion-resistant aluminium, cast-iron and pressed steel moulded to key product specifications.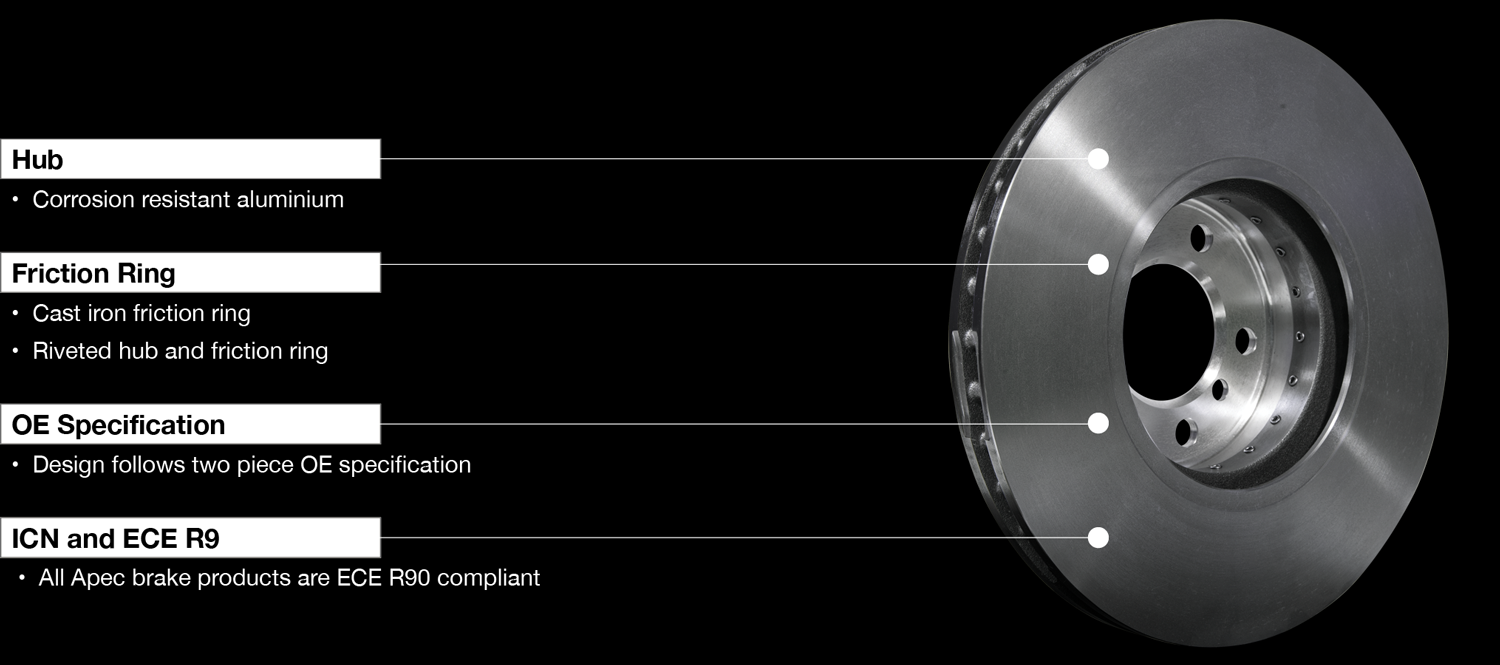 Mercedes Bonded Discs.
The Mercedes Bonded Disc was first released in 2015 and installed in C-Class models at the point of manufacture. Much like OE bi-metallic discs of the time, it used two different metals to increase performance through a patented mechanical bonding process. Due to the substitution of the aluminium hubs used by competitors with a pressed steel hub that was only 2.5mm thick, original aftermarket solutions fell short of emulating these critical dimensions with a full cast version. This was due to the brittleness of those failed solutions often resulting in fractures.
Although the ideal hub thickness for a disc of this size is traditionally thought to be around 7mm, implementing such a large hub in this application would result in a geometric change of 9mm. This would negatively impact handling and safety while also potentially stripping wheel bolt threads under lateral load.
Likewise, ESP and ADAS systems might have been compromised by such large hubs, meaning there were limited effective options for replacing the OE component. A fully cast version of the Mercedes patent would fall beneath OE dimensions, for example.
The Apec Black solution addresses this problem using similarly designed bi-metallic discs that match OE specifications and composition for Mercedes vehicle applications. These discs avoid patent infringement by using a special casting process that combines the pressed steel hub with the cast-iron disc without the need for mechanical bonding. These implementations allow installers to meet sufficient standards of security and longevity with a product that blends the premium quality of the OE part with aftermarket availability.