A NEW GENERATION OF BRAKING PERFORMANCE.
The Pads for Performance.
Every pad in our range is precision-made using the latest generation of friction materials and supported by comprehensive product testing. Each pad is then further enhanced with Stop Ready Coating that reduces the bedding-in process and boosts stopping power. With every installation, Apec Pads meet or exceed OE specifications to ensure that performance always takes precedence.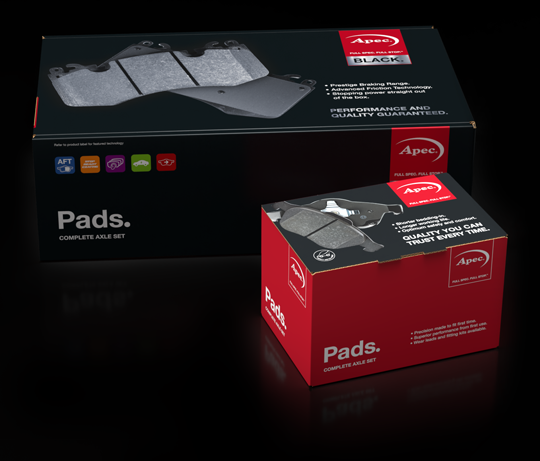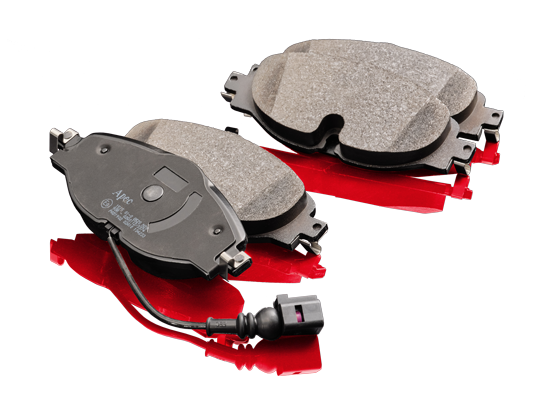 Superior in Standard.
Standard Apec Brake Pads provide a full braking solution for 99% of the UK car parc. With over 18 million Apec Pads produced every year, we specialise in providing superior braking performance for every application.
Picture Perfect Production.
Designed to serve as direct replacements for OE parts, Apec Brake Pads meet and exceed R90 standards of production to promise superior performance, easier bedding-in and increased longevity. Precision-made and extensively tested in Europe, Apec Pads secure better quality at better prices. All our pads are covered by our 3Y36K guarantee, giving you the peace of mind to experience the joys of seamless, efficient braking.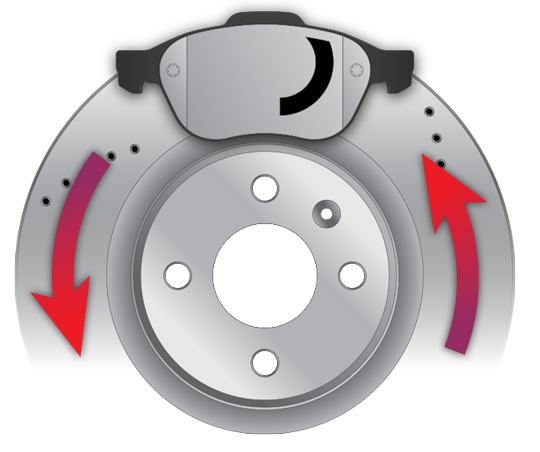 Directional Pad Technology.
All our pads, where required, are designed with Directional Pad Technology to mitigate NVH for braking that sounds as good as it feels. In an industry where streamlining is everything, Apec Black Pads cut through the noise to dramatically improve the driving experience.
Under Pressure.
Apec Pads are manufactured using a premium-grade High-Pressure Treatment (HPT) scorching process at no additional cost to the consumer. By applying a pressure of 10,000 Nm at temperatures of 650ºC, we ensure that the entire surface of our pads is cured to a depth of 2mm. This prevents the crystallisation of the friction materials used in the pads for long-lasting performance that remains resistant even in the most extreme environments, provides an improved initial pedal feel and reduces bedding in time.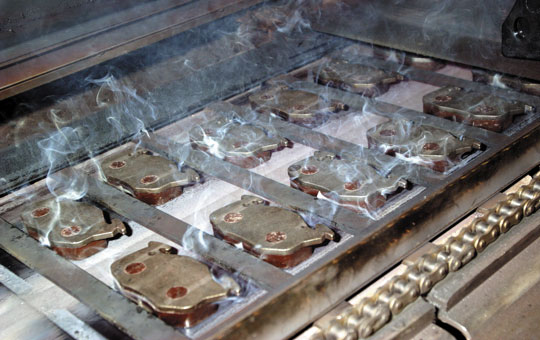 EV Evolution.
The future of the automotive industry is electric vehicles, and Apec takes that into account with the way we design our braking products. All brake pads within the Apec range are compatible with hybrid and electric vehicles to guarantee that as many applications as possible can benefit from their elite performance. At Apec, cleaner braking is the bottom line.
Better in Black.
Our standard selection is a standalone solution for superior braking, but Apec Black Brake Pads expand upon that selection to offer premium performance for premium applications. By meeting and exceeding OE specifications, Apec Black Pads ensure that every installation matches the luxury of your vehicle with the reliability of the Apec brand. With Apec Black, you get every degree of quality found in our standard Apec range and more for a selection of brake pads that go above and beyond at every turn.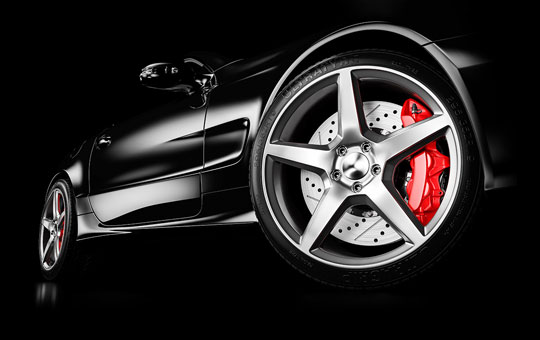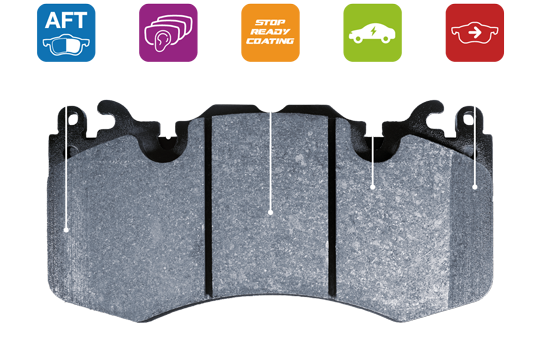 Fighting the Fade.
An overheated pad can have a knock-on effect on the efficacy of your braking system, dampening performance and leading to increased stopping distances, among other problems. That is why every Apec Black Brake Pad is treated for increased heat conductivity and dissipation. In addition to cutting-edge friction materials, we also use a process of High-Pressure Treatment (HPT) scorching for improved initial fading, better bedding-in and superior safety.
Built to Last.
The Apec Black range revolves around the importance of a long-lasting installation for giving luxury vehicles a new lease on life. We implement a variety of manufacturing-level innovations to significantly increase the lifespan of our brake pads by up to 34%. From anti-rust coating to durable compounds, Apec Black Pads offer OE quality longevity with comprehensively tested and proven reliability.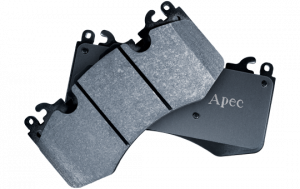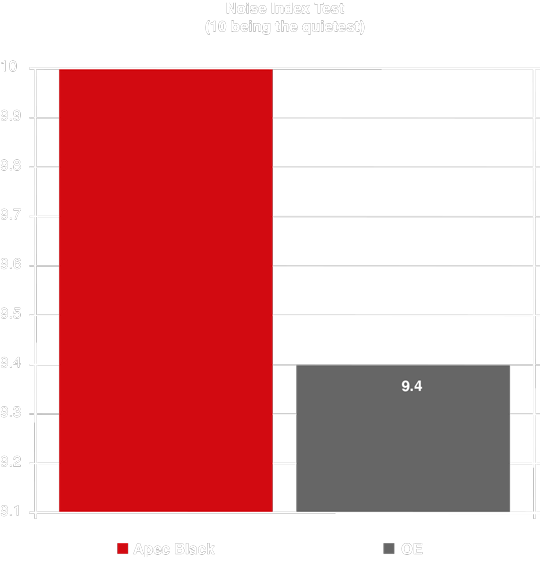 Soft-Spoken Stopping.
Apec Black Brake Pads are unique in their use of Advanced Friction Technology (AFT) for better braking across the board. Our pads prioritise performance on every level, whether that means braking efficiency or a smoother drive. Each of our pads is tailored to suppressing Noise, Vibration and Harshness (NVH) and uses our SilentGuard Shim Technology to improve the overall driving experience so you can fully appreciate the accuracy and comfort of your Apec Black fitted vehicle.

BMW X3.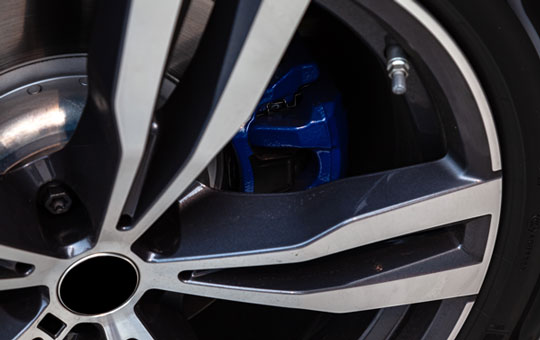 To verify the performance of Apec Black Brake Pads, we installed them into a BMW X3 application and compared them against OE BMW parts in an AMS test. The results showed that the Apec Black installation led to a notable increase in deceleration and a decrease in stopping distance when weighed against their OE counterpart.
In addition to the AMS test, we also evaluated several key factors of the braking system in both the OE-installed and the Apec Black installed BMW X3s. These tests used industry-approved metrics to observe stopping distance, deceleration, noise, and expected pad life. The results showed that Apec Black Brake Pads outperform OE brake pads in all fields. On the Noise Index Test, Apec Black Pads scored a perfect 10 in terms of quietness, indicating the highest level of noise reduction compared to the OE score of 9.4. Likewise, Apec Black Pads had an expected pad life of 134.89% compared to the OE baseline of 100%. This indicates that significant improvements had been made to noise reduction and longevity.
The pads were also tested in more extreme user cases on a BMW X5 to gather data on high-pressure performance. The results of a brake test typically used by the MET police to benchmark and approve pursuit vehicles showed that Apec Black Pads consistently showed less fade cycle and burnish wear than their OE counterparts. This difference equated to a total wear that was almost half of that found in the OE, suggesting better and more reliable braking from Apec Black Pads in performance-intensive situations.