Give Your Hub a Rub.
Removing built-up dirt and corrosion from your wheel hub during a disc change is essential for avoiding excessive lateral run-out, brake judder, noise and discomfort. To help with this, we stock a Hub Cleaning Kit with the tools you need to get the best disc fit possible.
Quickly and effectively removes dirt and corrosion from the hub surface for correct disc fitting.
Allows for the easy cleaning of hubs, the area around wheel studs, brake drums, and discs.
Suitable for use with power drills and air impact wrenches at low speeds, allowing for more intensive and precise cleaning.
Kit includes a specially designed cleaning disc holder, 5 coarse cleaning discs and a 3/8" drive adapter.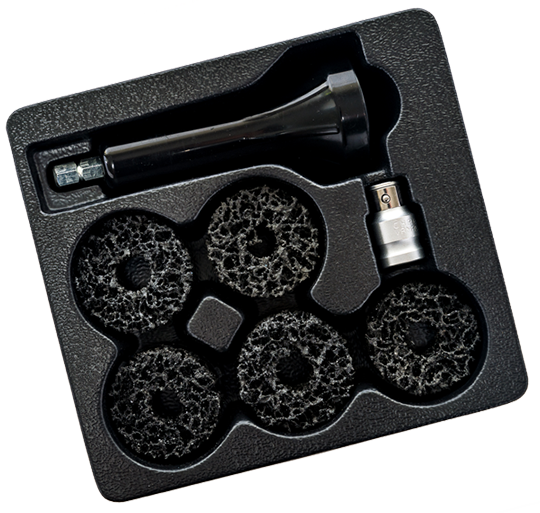 Grease is the Word.
Keeping your brakes and calipers well-lubricated allows them to operate at peak performance for a smooth ride that is free from excess Noise, Vibration and Harshness (NVH).
Our brake grease is formulated from a copper-free lubricant that assists in the smooth movement of braking components. Designed to resist moisture and high temperatures, Apec Brake Grease is suitable for use in ABS brakes and comes in a 75ml tube for easy application.
Calipers are routinely exposed to severe environmental conditions, acidic cleaning substances and high-pressure washers, all of which combine to wear away any applied lubricants. Apec Caliper Slider Grease restores and maintains braking performance by lubricating the caliper sliders with a specially formulated, anti-corrosion compound that can withstand and repel moisture. Further reinforced with a high film strength, our Caliper Slider Grease sticks around without deteriorating rubber parts.
A Clean Brake.
Apec Brake Cleaner uses a powerful dual-action formula to strip away oil, grease and brake dust while eliminating brake squeal caused by contamination. Available in 600ml aerosol cans and 5l containers, our brake cleaner can also remove the protective coating from replacement discs. In addition to our brake cleaner, we also stock brake cleaner dispensers to assist with the application process.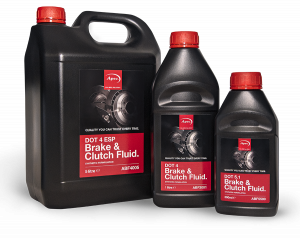 Brake & Clutch Fluid for Premium Performance
The Apec Brake Fluids have been formulated to support optimal performance and precision in braking parts, consequently increasing the life of vehicle components. With a range of options to suit many requirements, we have you covered with DOT 4, DOT 4 ESP and DOT 5.1 fluid.
Crafted using a high purity, high performance liquid formulation with excellent wet and dry boiling points, our brake and clutch fluids guarantee excellent braking performance and safe braking efficiency for longer. All our brake fluids have anti-corrosion properties and are wear-reducing, ensuring maximum efficiency and high performance from bottle to brake.
Fits Like a Glove.
There is no tool more useful or invaluable to a functioning installation than your hands, so protecting them against potentially harmful substances is essential. With Apec Workshop Gloves, you can carry out repairs and maintenance with comfortable, breathable protection that safeguards against fluids, tears and abrasions. Complete with an elasticated wrist for a secure fit, our gloves make auto-repair easier with ribbed palms and fingers for enhanced grip when handling parts.
Available in sizes L and XL, Apec Workshop Gloves provide the same level of care for your hands that Apec Braking provides for your vehicle.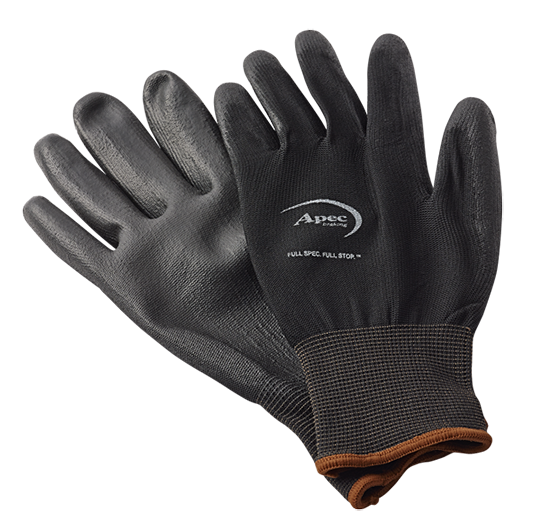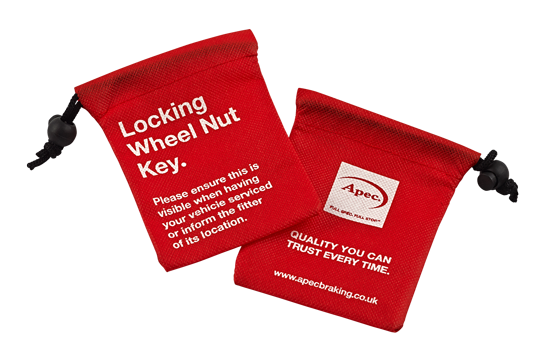 Braking Bag.
There are few things more frustrating to installers than losing a small but essential part at the most inopportune of times. Locking wheel nut keys are all too easy to misplace when carrying out maintenance or a repair, so if you want to keep a cool head, keep your nut keys collected with the Apec Locking Wheel Nut Key Bag.
Woven out of durable, high-quality fabric, our bags are an eye-catching Apec red for easy identification even in the most dizzying pile of parts. Fashioned with a drawstring closure for added security, these bags are a reminder of superior Apec service that are at home in any workshop.